BMOrg's latest post on ticketing does nothing to quell doubts about the motivations behind Ticket Hell. Taking us on an emotional roller coaster from hell, and generating and focusing a massive amount of psychic energy around a totem, are clearly uppermost in the minds of the rulers of Burning Man:
it takes time to process all those transactions. Maddening time. Anxiety-inducing time. Time people spent on an emotional rollercoaster from hell, as they waited helplessly to see whether or not the winds of fate would blow a golden ticket into their hands. And during this time, probably more intensive psychic energy was heaped onto one single thing than anything else in Burning Man's 29-year history: The Little Green Man.
The Little Green Man (yes, we're capitalizing it, shut up) was the little dude standing, strolling or running along the progress indicator bar, marking one's advancement through the ticket queue. As ticket-seekers urged him on with a fervor worthy of a filly at the Derby, he ascended to the level of a little green mythical being of possibility that would make the average totem, rune, relic or fetish (wait for it…) green with envy.
So wait a minute – one of the world's largest occult rituals, with a city of 70,000 people anchored around the symbol of The Man, sitting awestruck as the effigy burns – and even that doesn't generate as much "intensive psychic energy heaped onto one single thing" as this ticketing process?
Most people wouldn't consider the idea of making someone "green with envy" over a magical symbol like a totem, rune, or relic, as a thing to brag about. We are investing all our psychic energy into the alien-looking avatar of BMOrg's creation, and being taken on an emotional roller coaster ride from Hell that puts us in a helpless position. This has been deliberately engineered, and now BMOrg are crowing about how well it all worked.
At one point there were Pac Man ghosts chasing the man: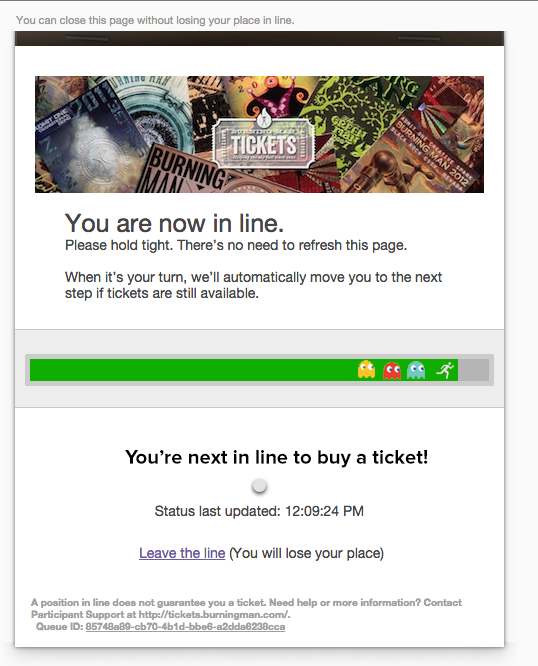 The ghosts are yet another occult symbol. They emphasize the cycle of Death and Rebirth being celebrated in this annual sacrificial ritual.
[Update 2/23/14/ 11:53am] – Reader JV informs us that the Pac Man screenshot above was Photoshopped, and posted on Burning Man's official web site in the discussion forums as a joke.
In another post de-briefing us on the situation, BMOrg said:
Did the servers crash?
No, they never did and the ticket buying process was never stopped — the queue was intentionally paused (briefly) to allow the servers to catch up to the demand — and nobody lost their place in line as a result.
This conflicts with reports from at least 5 different Burners who got a message that Ticketfly went down. Here's a screenshot from one of them:
If Ticketfly had crashed, and the system had to be brought up again, that would have explained why some who were in the queue at 12:00:07 or less didn't get tickets, while others who entered around 12:10:00 did. The queue was re-started on a new server, and all the people in the original queue were left hanging. If the system worked as planned, then how did people who logged in later skip the queue? Ticket season here is no small feature, if you ever needed to rack your brain about choosing server for small business, then you know how quickly things get complicated and risky if your traffic exceeds your expectations.
Whether the system crashed or not, it is becoming extremely clear that this did NOT operate on a FIFO (First In, First Out) basis. People who logged in at seconds past noon didn't get tickets, while people who logged in 15 minutes or more after did.
Why did some Burners get offered a $20 donation to make, and some a $40? Something is obviously segmenting Burners into groups, before they get to buy. Is this segmentation based on Burner profiles? If not, then how do they decide who gets shown a $20 donation and who gets the $40? Random? Or once the tickets are sold, the donation cost rises?
It should be: every Burner is equal, first come-first serve, process the transactions simultaneously. This is a computer system, after all. It's not like we are all actually standing in a line at a ticket booth, waiting for someone to type in our details and get back to us. I can see no technical reason why 21,500 transactions couldn't be processed in less than 10 minutes.
What about the massive waste of time from when they sold the last ticket, to when they let Burners know there was no point waiting in the queue any more?
Why were people held in line for so long only to find out tickets had sold out?
The system lets people into the purchasing stage, and then people purchase their tickets. Until they've all successfully purchased their tickets, it's not sold out. If for some reason somebody doesn't complete their transaction (bad credit card, they bail out, etc.), then their spot is given to the next person in line. So we don't remove people from the line until all the tickets have been successfully purchased, because technically you still have a chance to get one.
While this statement may be accurate on the face of it, it's not the whole truth. If you are #50,000 in the line when the last ticket is sold, there is no chance for you to get a ticket, technically or otherwise. The statement does not adequately explain how 60,000 58,500 people were kept waiting in line for 15+ minutes after the last ticket had been sold.  It takes no-one 15 minutes to complete the transaction with Ticketfly, not everyone.
Putting the pieces together, it seems like what happened was the queue didn't shut down because there was still soe inventory available. The inventory was the Donations, which were unlimited.
Were people given any advantage if they made a donation?
No, not at all. It was first-come, first-served for everybody.
Another statement that is clearly not true, according to hundreds of Burner reports online. Some people were logging in to buy multiple tickets for their friends, because they could get straight through while their friends were still waiting. If it was "first-come, first-served for everybody", this would have been impossible.
we do actively weed out known resellers as part of the registration process (that's one of the reasons we have you register for the sale).
An admission here that Burner profiles are screened, and "undesirables" on their list are "weeded out". Do they ever receive a message, being told "your Burner profile has not been accepted because we know you're a reseller"? Or are they just sitting there in the queue, waiting like everyone else, but with no chance to get through because their code won't be accepted?
as long as people are willing to buy tickets at exorbitant prices (we wish they wouldn't, but some apparently do), there will be a market for predatory resellers. It's antithetical to our community's ethos, but it's also the reality of supply and demand (and technically legal).
"We wish they wouldn't"…and yet they hiked the price of VIP tickets to $800 this year. I guess $800 is no longer considered "exorbitant", so long as you give the money to BMOrg instead of a fellow Burner.
The lack of vehicle passes is looking to be a huge problem, they have leaped to $325 now on Stubhub. Some Burners are prepared to go to extreme lengths to get the little slip of paper: